News
09/10/2020
The Corona crisis has opened the eyes of many people to the essentials: "NOW" is the film for the longed-for green turnaround and will be released in cinemas across Germany on 12 November! In his committed debut film, cult photographer Jim Rakete meets Generation Greta. No less than six young climate activists will be taking the floor, including Luisa Neubauer (Fridays for Future), Felix Finkbeiner (Plant for the Planet) and Nike Mahlhaus (Ende Gelände). Why did they become activists? What is at stake? The documentary conceived by screenwriter Claudia Rinke encourages imitation. Quite deliberately – so that the youth of today will have a future tomorrow. Support is provided by punk legend Patti Smith, author-filmmaker Wim Wenders and many more.


Complete article
06/10/2020
Home game for director Marc Uhlig, who lives in Karlsruhe: On Sunday, 4 October, his documentary "Our Soil is Our Heritage" celebrated its Baden-Württemberg premiere in Karlsruhe! He personally presented his committed cinema documentary on saving soil fertility in the sold-out Schauburg. Other special guests included author and Club of Rome Honorary President Ernst Ulrich von Weizsäcker and Mathias Forster from the Bio-Stiftung Schweiz, both of whom were also film protagonists. In the subsequent discussion with soil expert Bernward Geier, Weizsäcker emphasised: "I am glad that the film is now coming to the cinema. It makes it clear how important organic farming and soil culture have become for the survival of us in Germany and of humanity. I am very enthusiastic about it!"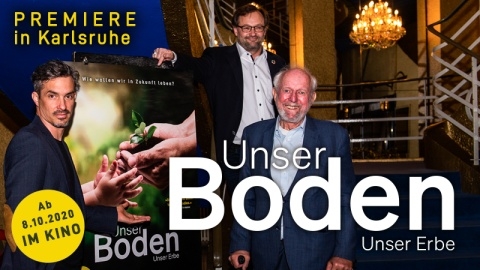 From left: Director Marc Uhlig, Mathias Forster from the Bio-Stiftung Schweiz and environmental scientist Ernst-Ulrich von Weizsäcker at the Baden-Württemberg premiere of "Our Soil is Our Heritage" in the Schauburg, Karlsruhe © W-film / Tobias Döhner








Complete article
04/10/2020
To mark German Unity Day on Saturday, 3 October, the feature film debut "Vatersland" by renowned documentary film director Petra Seeger celebrated its festival premiere at the Film Festival Cologne 2020, where she personally presented the film with her actors Margarita Broich, Felizia Trube, Momo Beier, Stella Holzapfel, Bernhard Schütz and Matti Schmidt-Schaller. Other guests included producers Christine Kiauk and Herbert Schwering (Coin Film), distributor Stephan Winkler (W-film) and Christina Bentlage from the Film- und Medienstiftung NRW, which after the production will also support the film's theatrical release in spring 2021 distributed by W-film.
After her award-winning documentary "In Search of Memory" about Nobel Prize winner Eric Kandel, Petra Seeger's first feature film deals with her own past as a growing girl in a post-war society dominated by men. She artfully interweaves the play scenes with wonderfully nostalgic family photos and 16mm film footage from her private archive. Major remembrance cinema about the trauma of an entire generation. Perceptive, feminist and at the same time incredibly entertaining and humorous!


From left: Felizia Trube, Momo Beier, Stella Holzapfel and Margarita Broich, the actresses of the main character Marie from "Vatersland" at different ages, as well as director Petra Seeger at the festival premiere in Cologne © Juliane Guder / Film





Complete article
02/10/2020
The documentary "Our Soil is Our Heritage" celebrated its German premiere with great success in the Babylon cinema in Berlin on 1 October. Director Marc Uhlig, TV cook and film patron Sarah Wiener as well as organic gardener David Steyer from Solidarische Landwirtschaft, both also protagonists, presented the film personally. Under the moderation of soil expert Bernward Geier, they discussed the documentary in the following film talk: it shows not only the importance but also the extreme threat to our livelihood, the soil. We use it as if it were inexhaustible. But our planet needs 2000 years to form ten centimetres of fertile soil. But each and every one of us can contribute to the preservation of this precious resource, whether as a farmer, gardener or supermarket consumer! Among the audience was Oscar winner Volker Schlöndorff, who was very enthusiastic: "The soil is like a skin on our planet. How the film depicts this is simply breathtaking!"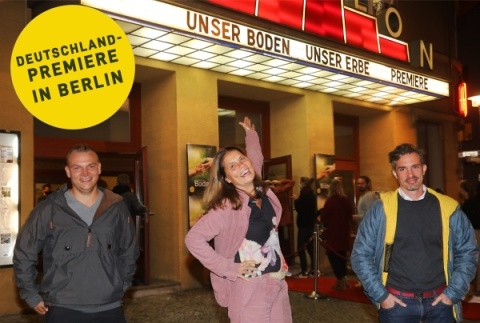 From left: Organic gardener David Steyer (SoLaWi Ravensburg), TV cook and film patron Sarah Wiener and director Marc Uhlig at the German premiere of "Our Soil is Our Heritage" in Berlin's Babylon © W-film / Sebastian Semmer




Complete article
24/09/2020
In commemoration of the end of the Second World War 75 years ago, the documentary "Germans & Jews" will be released on August 21 as VOD and DVD in stores! A valuable plea for open dialogue between non-Jewish Germans and Jews living in Germany. Film lovers can support the distribution company W-film directly even during the crisis by purchasing the film from W-film on Demand at http://vod.wfilm.de.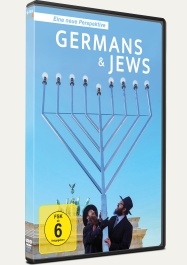 Complete article